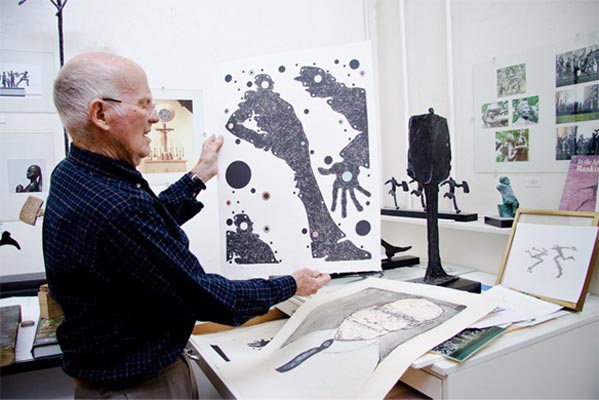 Kirk Newman was born in Dallas, Texas in 1926 and began his artistic career experimenting with abstract sculpture and painting in the exciting post-World War II era. What increasingly intrigued him, however, was the human figure and how it could speak to the complexities of the modern world.
Newman began his exploration of the figure by creating small sculptures of anonymous businessmen. While their suits identified them as figures of power and authority, their crouching, falling, and grasping postures revealed vulnerability. Cast in bronze, the figures took on an unexpected timelessness.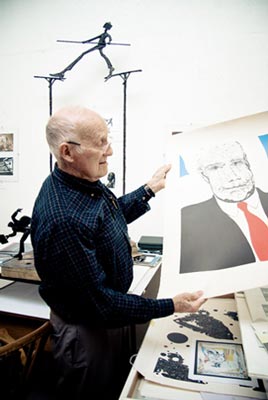 As Newman's focus shifted toward the whimsical and satirical, the figures suggested the inflated egos and social pretensions of their subjects. By the 1980s the businessmen, now distorted, flattened and shadow-like, conveyed the fast pace of contemporary life.
While widely recognized as a sculptor, Newman was also a dedicated educator. He came to Kalamazoo in 1949 as part of the University of Michigan's extension program. Newman believed community art programs could be as stimulating and rewarding as those offered at the college level. He recruited a dedicated group of teachers to help develop the Kalamazoo Institute of the Arts art school.
When he left as Director of Education in 1978, the school that now bears his name had received national recognition. It continues to be an enduring presence in the cultural life of Kalamazoo. Click here to go the KIA Kirk Newman Art School website for more information