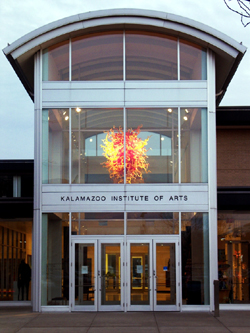 About the Kalamazoo Institute of Arts
Founded in 1924 by the Kalamazoo chapter of the American Federation of Arts, the Kalamazoo Institute of Arts is about enjoying and learning to create art. Over its 93 years, the setting has changed, but always, the mounting of exhibitions and the teaching of art have been intertwined, with the goal to both interest people in viewing art, and enable them to express themselves through art. The KIA belief that the visual arts are for everyone – that that they inspire, fulfill, and transform – fuels its mission to bring art to everyone.
About the Kirk Newman Art School
The Kirk Newman Art School is a non-degree facility offering four terms of classes for adults and children. Taught by artists in university-quality studios, the mediums include ceramics, digital media, drawing, fiber, jewelry, painting, photography, printmaking, and sculpture. Upwards of 300 classes are taught each year by dozens of professional artist-educators and enjoyed by 3,000 students. The school also hosts a post-baccalaureate residency program that welcomes and trains artists on their professional path.