Kirk Newman
January 5, 1926 – November 4, 2017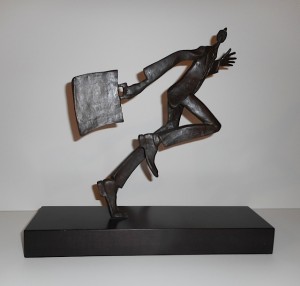 It is with deep sadness that the Kalamazoo Institute of Arts announces the passing of Kirk Newman. An artist and educator, Newman died peacefully at his residence in Kalamazoo at age 91, with an easel of his latest drawings close by. He was preceded in death by his wife, Georgia, in 2016. He continued to draw even in his final days, as the creative spirit remained alive and well. "I just need to make things," he was known to say.
Kirk Newman was born in Dallas, Texas, in 1926. He began his artistic career experimenting with abstract sculpture and painting, and moved into exploring the complexities of people in the modern world.
Newman arrived in Kalamazoo in 1949 to begin work at the KIA as part of the University of Michigan's extension program. Believing that community art programs could be as stimulating and rewarding as those offered at the college level, he recruited a dedicated group of professionals to help develop the art school.
In a 2015 interview with the Kalamazoo Gazette, he said, "Rather than have a few pictures around, the question was what do people DO with art… We were giving people a chance to actually experience the arts. Once you experience trying to make things, it's very different than just being an observer. Then it becomes a unique experience." When he retired from the KIA in 1978, after serving as art school director since 1961, the school that now bears his name had received national recognition.
"Kirk was a visionary arts leader who helped bring us to where we are today," said KIA Executive Director Belinda Tate. "The Kalamazoo Institute of Arts has become a cornerstone in the Southwest Michigan cultural landscape, and Kirk was integral to that evolution."
As an artist, Kirk Newman was an astute observer of the human condition and was fascinated by the expressive possibilities of the human figure. In 1963, at a time when abstraction dominated the art world, he began creating small sculptures of anonymous businessmen. Cast in bronze, the figures took on an unexpected timelessness yet embodied the complexities of the modern world. While their suits identified them as figures of power and authority, their postures revealed vulnerability.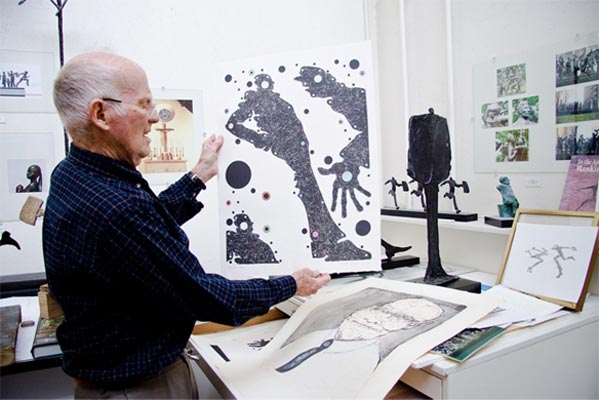 Later, as Newman embraced the whimsical and satirical, the figures suggested the inflated egos and social pretensions of their subjects. By the 1980s his sculptures became dramatically flattened and shadow-like, to better convey the fast pace of contemporary life.
Newman's reputation was created largely from 2 bodies of work: small bronze figures and large public pieces presenting a more traditional approach to the figure, which can be found in Toronto, Hong Kong, and throughout Michigan. Examples can be found outside the KIA (People, 1974) and nearby in Bronson Park (When Mercy and Justice Prevail, 1976, detail shown below). For a list of the KIA holdings of Newman artworks, see
kiarts.org
.
Memorial contributions may be made to the Kirk Newman Art School Scholarship Fund at the
Kalamazoo Institute of Arts
, or Hospice Care of SW Michigan.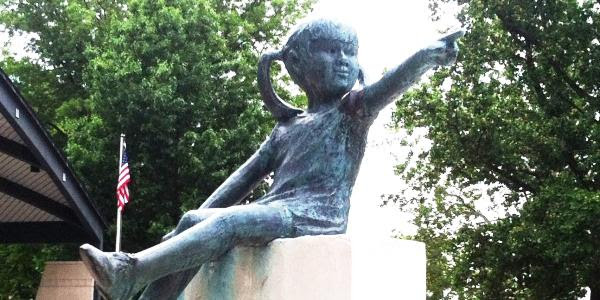 COMMUNITY - Concept Drawing

COMMUNITY - Completed